In response to growth in the Business sector, with needs oriented towards administrative and financial apps, in 1993 the degree of Administrative Information Technology Engineering was created. This degree turned into a specific proposal for the development of information technology systems, administration of computer and information technology centers, systems auditing with a main design in programming content, software engineering, data base and systems information, all recommended by de ACM and the IEEE, with an emphasis in business and quality management systems.


As an Administrative Information Technology Engineering you will be able to work in all kinds of Companies and institutions, both national and international, performing as an Area Manager, main Executive, Head of the Computer Center, Information Systems Auditor and Administrator or Consultant.

You will be able to create your own company in design and development of software providing computer information solutions to the needs of users nationally and internationally.

You will be able to apply Technology (internet, intranet and software) according to the interests of management for information and the different areas of the company, analyzing, designing, constructing, implementing and maintaining computer systems for administration and information and communications technologies. (CIT´s).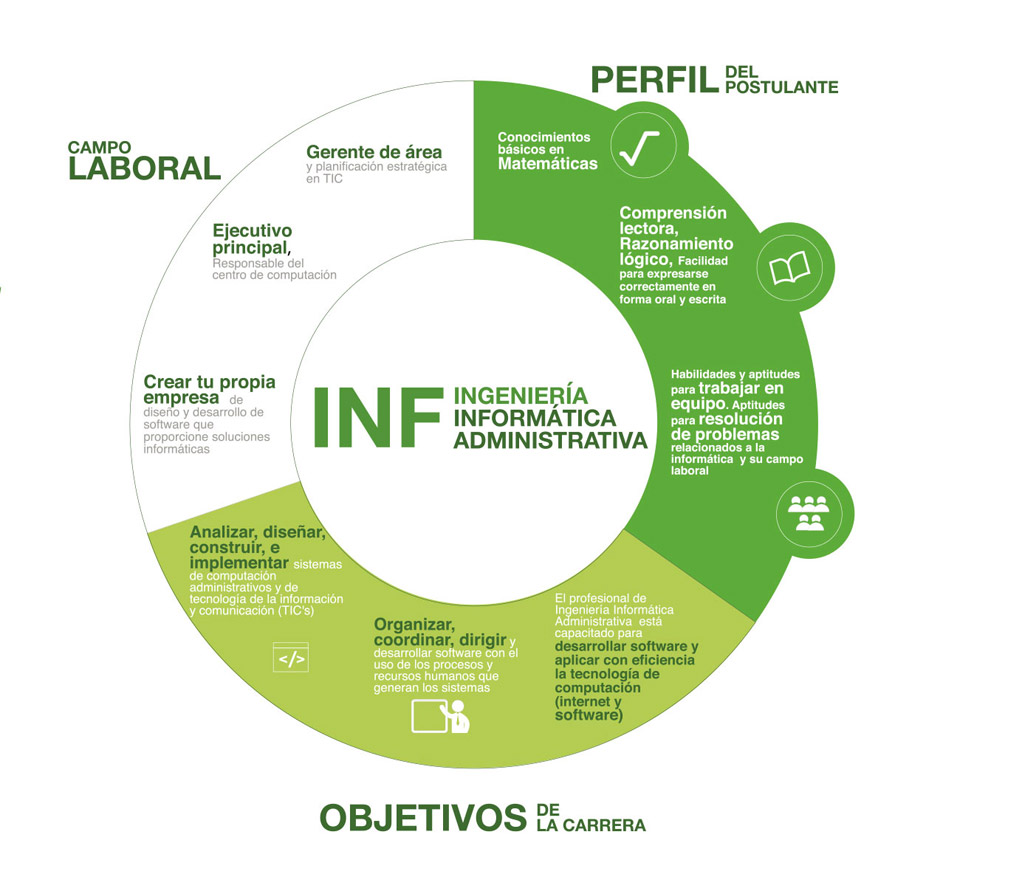 PRIMER SEMESTRE
Fundamentos de Matemática
Álgebra I
Fundamentos de la Administración de Empresas
Pensamiento Crítico
Fundamentos de TI
Contabilidad General I
SEGUNDO SEMESTRE
Calculo I
Álgebra II
Teoría de la Organización
Fundamentos de Programación
Redes I
Contabilidad General II
TERCER SEMESTRE
Calculo II
Estadística I
Interculturalidad, Ciudadanía y Género
Estructura de Datos
Redes II
Contabilidad de Costos I
CUARTO SEMESTRE
Ética y Valores
Estadística II
Programación Aplicada
Sistemas Operativos
Matemática Financiera I
Certificación idioma Inglés
QUINTO SEMESTRE
Investigación Operativa I
Análisis Estadístico de Calidad
Bases de Datos
Estructura de Datos Avanzadas
Laboratorio de Sistemas Operativos I
Administración Financiera I
SEXTO SEMESTRE
Emprendimiento y Gestión de la Innovación
Administración de Recursos Humanos
Ingeniería de Software
Laboratorio de Sistemas Operativos II
Presupuesto
Análisis para la toma de Decisiones
SÉPTIMO SEMESTRE
Sistemas de Información
Desarrollo de Aplicaciones Web
Virtualización y Computación en la Nube
Resolución de Problemas y Toma de Decisiones
Gestión de Empresas Familiares y PYMES
Electiva I
OCTAVO SEMESTRE
Gestión de la Calidad Total
Gestión de Base de Datos
Estrategia Empresarial
Evaluación de Proyectos de Ingeniería
Pasantía Profesional
Dirección Estratégica
Electiva II
NOVENO SEMESTRE
Sistemas Inteligentes e Innovación
Gestión de Sistemas
Modalidad de Graduación I
Proyectos de Planificación Estratégica
 
 
DÉCIMO SEMESTRE
Modalidad de Graduación II
 
 
 
 
 
Derecho Comercial, Laboral y Tributario

Introducción a la Economía

Microeconomía I

Administración Financiera II

Gestión de la innovación Tecnológica y Emprendimiento

Administración de la Producción y Operaciones I

Administración de la Producción y Operaciones II

Electrónica Digital

Cableado Estructurado

Telecomunicaciones I

Laboratorio de Redes I
Laboratorio de Redes II

Investigación Operativa II

Modelación y Simulación

Computación Móvil y Ubicua

Ingeniería de Calidad y Pruebas

Fundamentos de Marketing

Investigación de Mercado

Análisis del Comportamiento del Consumidor

Ofimática Avanzada

Writing Lab

Life Plan To Excellence
TecnoUPSA Feria de Ciencias y Tecnología

Feria de Emprendimiento

Capítulo Estudiantil ACM (Association for Computing Machinery)

Capitulo Estudiantil MSP (Microsoft Student Partner)
Laboratorio de Redes y Telecomunicaciones

Laboratorio de Computación en la Nube

Laboratorio de Base de Datos

Laboratorio de Computación
Plataforma Virtual

Biblioteca ACM/IEEE

Incubadora de Empresas